How confusing are image files these days? There are JPGs, TIFFs, GIFs and PNGs. If you don't have a background in image manipulation it can be difficult to understand the difference between a JPG, GIF, TIFF, PNG and EPS. Surely there's not that much difference?
Well yes actually. If you don't know what you're doing and you select the wrong file format for your images or logo design, you will end up with a poor result for your small business. Each image format makes tradeoffs between colours displayed, file size and compatibility. The great thing is that knowing which image format to use is straight forward.
Below is a video I've prepared which discusses the difference between a JPG, GIF, TIFF, PNG and EPS. A summary of the main points can also be found below: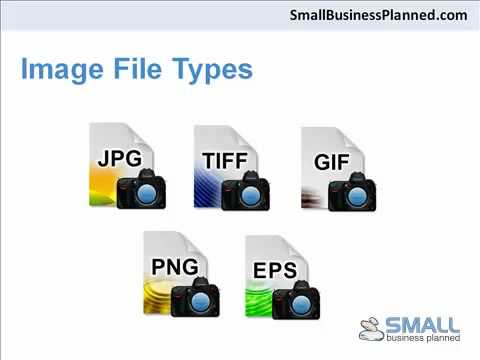 What is a JPG?
A JPG is an image format that's capable of featuring millions of colours. Plus it compresses really well, meaning that your file size is a fraction of other file formats. A JPG is a great format for storing images and photos that have a smooth variation in colour. However it's not great at displaying sharp contrasting edges, lines or text. Principally, a JPG is perfect for online images. The only downside is that its file compression method does reduce the colour and detail of an image.
Pros: Smallest file size, supports millions of colours
Cons: Loss of colour detail, produces fuzzy edges around lines and text
What is a TIFF?
A TIFF is like a super detailed JPG. When you save an image as a TIFF, the TIFF file format doesn't lose detail or colour, so everything stays exactly the way you need it. The downside to this is that TIFFs usually have a large file size, which isn't well suited to the online environment. However if you're looking to save a highly detailed image for print, a TIFF is your best image format.
Pros: Does not lose detail, supports millions of colours
Cons: Large file size, suitable for printing. Not compatible with all platforms
What is a GIF?
A GIF is a basic image file that can only show 256 colours. This 256 colour palette is a set range that cannot be replaced or added to. The great part is that since a GIF is limited to 256 colours, it has great compression, leaving your image files very small. GIFs are also perfect at showing sharp lines and text – a lot better than a traditional JPG. GIFs also get a thumbs up for supporting transparency and animation.
The main downside to a GIF is that you're limited to 256 colours. If you're just looking to show an online diagram or chart, then that's great. However if you're looking to showcase your logo, be mindful that the GIFs colour representation probably won't be the best.
Pros: small file size, does not lose detail, supports transparency, keeps clean edges, supports animation
Cons: can only select from 256 colours
What is a PNG?
A PNG file is a relatively new kid on the block. It was originally designed as an alternative to the GIF. A PNG can show millions of colours AND sharp edges without a hassle. Plus it compress really well, giving you a small file size. Thumbs up! This makes it perfect for the online environment. In addition the PNG file format also supports transparencies.
Sounds great so far, doesn't it. Unfortunately the only downside to the PNG image format is that it's not compatible with all online programs and applications (especially Internet Explorer 6 or earlier). This means that visitors using non-compatible browsers will not be able to view your PNG files.
I see PNG becoming the online standard as time marches on, however at this moment I can't recommend it.
Pros: small file size. Supports millions of colours, supports transparency. Good for sharp edges
Cons: online format only. Is not compatible with all platforms, not as well known
What is an EPS?
An EPS is a vector image file. This means that it is scalable to any size you need. The other image formats above are not scalable. This means that if you need to increase their physical size to fit on a sign or a banner, the images will lose detail and become pixilated. An EPS does not have this problem as it's completely scalable to any size you need.
The downside to an EPS is that it's a specialist vector image format. Vector images can only be opened in graphic design software applications such as Adobe Indesign or Adobe Photoshop. You will not be able to open an EPS file in standard applications (although checkout my tip how you can preview EPS files)
Overall I recommend using an EPS on any print applications, especially large scale printworks.
Pros: scalable to any size, does not lose detail
Cons: can only be opened by graphic design software packages
And that's the difference between a JPG, GIF, TIFF, PNG and EPS. Drop me a note if you found this helpful, or if you have any further questions.
Growing your small business,
David Moloney
sbp.strongerbranch.com
GET FREE INSTANT ACCESS TO THESE
THREE ESSENTIAL SMALL BUSINESS RESOURCES
(To help you maximise your business)

15 Recommended Downloads for Small Business Owners

10 Website Mistakes That Cost You Sales

How to Get More Customers Contacting You Automatically
[contact-form-7 id=3220 title=Under Post Newsletter]