Ever wanted to determine the exact colour of an item on your screen? I'm going to show you how you can do it in a sinch.
We ask a lot from our computers. We expect that our applications will seamlessly integrate with other applications, without any errors. Unfortunately often this is not the case. Formats get messed up, items get cropped and even colours get changed. This drives everyone insane.
I've talked a lot about the importance of branding and consistency. One key element of consistency is colour. Sure, you may have thoroughly documented your brand's colours, but what if you're stepping outside these colours and you'd like to match another colour your working with, perhaps from a photo or PDF?
By golly, this can be a hassle.
If you don't have access to the source files, you'll need a professional photo editing program to determine the colours used. And that will cost a bit of money. But never fear,  I've stumbled across a free program that lets you view the colour specifications of anything on your screen, giving you instant CMYK or HECS values. These values can then be matched in your work.
You Need ColorPic
ColorPic is a neat little (only 500kb) program that you can download for free and have sitting on your desktop. Whenever you wish to get the specifics of a colour, simply open the program and hover over the colour in question. You can even save the colour to a custom palette, allowing you to recall it later. Too simple. See the ColorPic quickstart guide for more details
My ColorPic Tutorial
To demonstrate how easy this program is to use, check out my video below: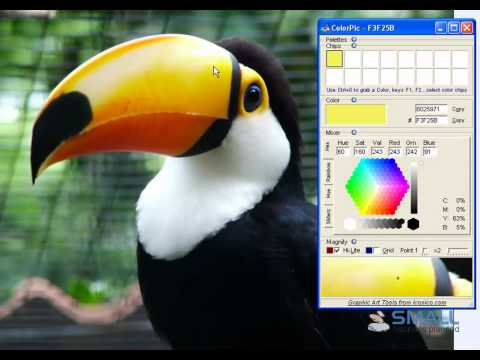 Download ColorPic
Download ColorPic for Free from Iconico
Growing your small business,
David Moloney
Small Business Planned
GET FREE INSTANT ACCESS TO THESE
THREE ESSENTIAL SMALL BUSINESS RESOURCES
(To help you maximise your business)

15 Recommended Downloads for Small Business Owners

10 Website Mistakes That Cost You Sales

How to Get More Customers Contacting You Automatically
[contact-form-7 id=3220 title=Under Post Newsletter]